Following a very busy January transfer window in which North End brought 8 players to the club, the one position that very few perhaps expected a signing was the goalkeeping department.
Declan Rudd, who signed a new 3-year deal in the previous April, was an ever-present the season before and played all but one of the games this term. However, following a freak knee injury in training, which left the 30-year-old requiring surgery, PNE dipped into the loan market to sign highly-rated, 23-year-old Danish keeper Daniel Iversen from Leicester City.
It's fair to say, despite only being 7 games into his loan stint, Daniel Iversen has become a bit of a fans' favourite within the North End faithful. A standout moment for him being his truly remarkable reflex save to keep Blackburn striker Adam Armstrong out on the stroke of half time and help Preston go into half time with a well deserved lead, a lead that ultimately resulted in 3 points on derby day.
Preston fans were so impressed following this that some tweets branded him as 'next level' and another fan claiming North End should 'break the bank' to sign the keeper on a permanent basis in the summer from Leicester.
Whether this will occur or not is yet to be seen; the goalkeeper is highly rated at Leicester and signed a new 5 and a half year deal in January 2020. With 4 and a half years left on his deal in the summer means it would take a substantial fee if PNE were to tempt the keeper away from his parent club, that being if the Foxes were even willing to discuss a deal. However, has the form of Iversen perhaps exposed that PNE were weak in the goalkeeping department before his arrival?
In this piece, I will take a look at the numbers behind our goalkeepers since promotion back to the championship and discuss this.
Let's rewind back to the summer of 2015, Preston North End are celebrating being back in the Championship and announce the permanent signings of two of the previous term's loan stars; Paul Gallagher and Jermaine Beckford. The club also tried to bring back another ex-loan player in Manchester United goalkeeper Sam Johnstone.
For whatever reason, the deal didn't materialise and Preston instead moved for young Sunderland keeper Jordan Pickford. What followed on from that was truly remarkable.
I don't think I'm alone in saying Pickford is the best keeper I've ever seen at North End as he pulled off sensational saves week after week, fast becoming a huge reason behind Preston's solid start to the Championship by the halfway point of the season. Unfortunately, he was recalled by Sunderland at the start of January following an impressive 12 clean sheets in 23 games (52.17%) and only conceding 0.91 goals a game. This left Preston with huge boots (and gloves!) to fill.
Some might say this was the start of a problem that would drag on for many years; trying to find a goalkeeper to help Preston climb the table like now England number 1 Jordan Pickford had done. PNE had young Matt Hudson and veteran Chris Kirkland in the squad but also moved to bring in ex-Manchester United keeper Anders Lindegaard on loan from West Brom.
Although he never hit the heights of Pickford, he was a solid addition in his loan stint and despite only managing to keep 2 clean sheets in his 14 appearances, he only conceded on average 1 goal-per-game and Preston fans would have been happy to see the keeper return on a permanent basis in the summer.
Following several years of loan goalkeepers (stretching back to Declan Rudd first arriving in 2013), Preston brought in 2 permanent keepers that year to fight for the number 1 spot. Chris Maxwell and the returning Anders Lindegaard penned contracts from Fleetwood Town and West Brom respectively.
It broke in the national news that Anders Lindegaard had split from his supermodel wife Misse Beqiri over that summer and this coincided with a drop in form in which Preston had lost 6 of their opening 8 Championship games, including a disastrous 5-0 loss away at Brentford where a very uninspiring Lindegaard would play his last league game for Preston.
Having conceded 12 goals over the 6 league defeats, it was a sorry end for a goalkeeper who many fans had hoped would spell the end of Preston's problems to secure a long-term goalkeeper.
Chris Maxwell came in for the following game ( a 1-0 win over Wigan ) and was ever-present during the rest of that season. Despite conceding 51 goals over the 38 games, Maxwell looked solid for Preston and the highlights included penalty saves against Villa and Brighton during 2-0 home wins. Anders Lindegaard was released at the end of the season while Chris Maxwell had done enough to be rewarded with a contract until the summer of 2020.
It would turn out to be a massive summer for North End ahead of the 17/18 season. Simon Grayson re-signed Declan Rudd for an undisclosed fee before agreeing to become the manager of newly relegated Sunderland. Alex Neil, Rudd's old manager at Norwich, was appointed and this is when Preston's goalkeeping situation began to look unsteady.
Alex started with Maxwell and kept with him until January before a Maxwell blunder against Birmingham forced Neil's hand in giving Declan Rudd his first league start since his return in an impressive 3-0 win away at Nottingham Forest. Neil would chop and change the goalkeepers 4 more times between that point and the end of the season. It was clear he wasn't too confident in either keeper and despite Chris Maxwell boasting an impressive 40% clean sheet ratio and 0.97 goals conceded per game, he was dropped to second choice.
In the following season, one in which PNE ended up in a lowly 14th place, both keepers were making costly mistakes.
This situation would soon become the main talking point for the fans. Chris Maxwell got two ridiculous bookings away at Ipswich that all but ended his Preston career while Declan had made mistakes vs. Bolton and the famous one away at Birmingham where a long ball bounced between his gloves as he bent down to catch the ball and embarrassingly ended up in the back of his goal.
? Look away now Declan Rudd…

The Preston goalkeeper gave Birmingham a helping hand towards victory at St Andrews this afternoon: https://t.co/lmbGrFQvrw pic.twitter.com/0ZqBGUdP0s

— Sky Sports Football (@SkyFootball) December 1, 2018
That January, Chris Maxwell was loaned out to Charlton, where he'd go onto make a grand total of 0 appearances, leaving Preston midway through a season where he'd conceded an unenviable 1.88 goals a game and only kept clean sheets in 12.5% of his games.
North End acted to bring in Middlesbrough keeper Conner Ripley, which sparked a much improved second half of the season from Rudd, the highlight being a penalty save during a man of the match performance during a 3-1 victory against ex-club Norwich City who went on to win the league that season.
Rudd finished the season with a 25% clean sheet ratio; decent but would have been stronger had he not performed poorly in the first half of the season.
Ahead of the 19/20 season, North End's attempts to sign Manchester City keeper Aro Muric on loan were quite public, but this at least suggested they were still keen to strengthen the goalkeeping position, but ultimately we lost out to Nottingham Forest. Preston decided to bring in a senior goalkeeping coach in Jonathon Gould, having not had one since Alan Kelly Jnr's departure in 2017.
This coincided with an upturn in form for Rudd who played all of the 19/20 season and all but one of the games up until his injury this season. He earned a new contract in spring last season and to many, it looked like Rudd had nailed himself a place as Preston's number 1 and the club had finally solved Preston's post-promotion problem of finding an adequate, long-term number one goalkeeper.
Does this mean Preston have finally found security and a good enough keeper they are happy with? Not necessarily. Let's look at the stats. This data was taken following the 1-0 defeat to Watford and before the 4-0 defeat at the weekend against Cardiff City.
| | | | |
| --- | --- | --- | --- |
| | Preston North End | Declan Rudd | Daniel Iversen |
| Goals Conceded | 38 (5th joint worst in the league) | 30 | 7 |
| Avg. Goals Against p. 90 | 1.36 | 1.27 | 1 |
| Shots Faced | 97 | 76 | 20 |
| Saves | 65 | 50 | 15 |
| Save % | 67% | 65% (31st worst for 'keepers playing 7 or more games this season) | 75% (7th best for keepers playing 7 or more games) |
Stats taken from fbref.com
Looking at these stats, it would suggest Declan Rudd, to be plain and simple, is conceding too many goals. Considering we are mid-table for the number of shots faced, the fact we have the 5th worst defensive record (before the Cardiff game) shows how Rudd isn't saving the number of shots other championship keepers are, resulting in many goals conceded.
Of course, these stats do not include the expected save of the shot as a simple save percentage does not account for the type of shot (ie. perhaps Rudd was unlucky and had no chance). However, this table suggests differently.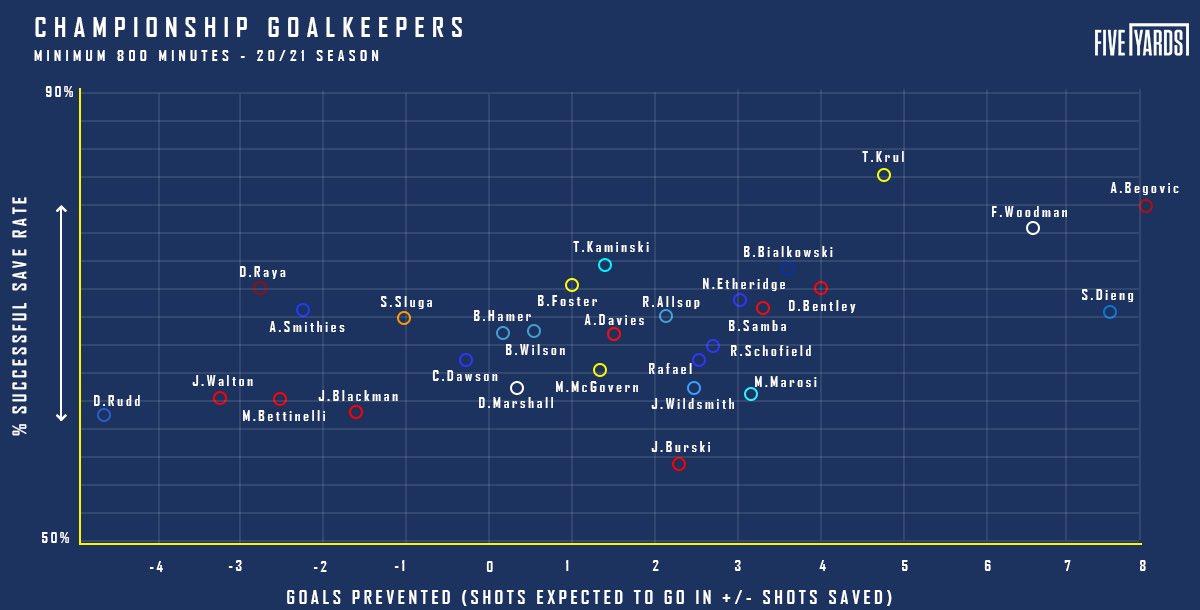 The above table, courtesy of @FIVE__YARDS on Twitter, shows that Declan Rudd has let in 4.8 more goals than what he would have been expected to save, comfortably the worst in the division behind Jack Walton of Barnsley who has an expected save of just over -3. As we go into next season and (hopefully) push towards the play-offs, conceding these extra goals could potentially be a huge burden on our attempts to do so.
Although Daniel Iversen does not qualify for this table as he hasn't played 800 minutes, his save last Friday is a prime example of the type of save that pushes a goalkeeper onto the right hand side of this table.
As I stated earlier in this piece, it is completely unknown whether PNE will be able to even attempt to land Iversen permanently or on loan again next season. However, I believe the club are aware that they need to strengthen the goalkeeping department.
Following the attempts to land Muric in the summer of 2019 and Peter Ridsdale openly admitting in his chat with Jake and Jimmy on the podcast, that they had asked about signing Iversen even before Rudd's season-defining injury, this tells me that the club is still intent on adding quality in the goalkeeping position.
It is unknown what the future holds beyond this season. It is incredibly unlikely that North End will be able to fetch a goalkeeper in of Pickford's quality but whether Rudd, Iversen or someone else is PNE's number 1 by the time the 21/22 season rolls around, and fans are hopefully back inside Deepdale, is yet to be seen. I believe it will once again be one of the main talking points of this upcoming summer transfer window.
Finally, if you haven't yet listened to the latest episode of the From the Finney podcast, it's available to stream on the majority of streaming platforms now. Or, just press play below and you're golden.